Allgemein
The Aztecs
The Aztecs/Mexicas were the native American people who dominated northern México at the time of the Spanish conquest led by Hernan CORTES in the early 16th century. According to their own legends, they originated from a place called Aztlan, somewhere in north or northwest Mexico.
http://www.indians.org/welker/aztec.htm

The Aztecs believed they were living in the fifth and last creation of the world. They called each creation a sun, because movement of the sun maintained human life. The central figures in the relief are located in the square panels in the center. They represent four previous suns that perished. The top right square is the jaguar. Moving to the left is the wind, below the wind god is fiery rain and in the bottom right square is water. The central deity is interpreted as either the sun god, Tonatiuh or the earth god, Tlaltecuhtli. The tongue is a sacrificial knife, with claws holding a human heart in the circles on both ends.
http://www.lalc.k12.ca.us/laep/smart/Sunrise/sunstone.html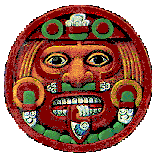 Aztec Calendar or Sun Stone
Carved in the middle of the 15th century, the artifact is said to illustrate that Aztecs had a fine knowledge of both astronomy and mathematics.
Pictographs carved in the stone (but not shown to the right) represent days, months and "Suns," which are also called cosmic or world ages. Four squares that surround Tonatiuh, Aztec deity of the Fifth Sun, are called Nahui-Ollin, or Four Movement.
Aztec legend has it that these squares represented the different manner by which the four previous Suns (or worlds) had come to an end: first by wild animals, then by wind, fire, and flood. Aztecs believed that they were living in the fifth and last world.
http://www.greenheart.com/billh/aztec.html