Franz Marc
Franz Marc: Encyclopædia Britannica | article page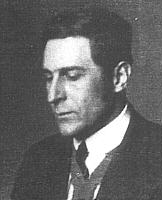 b. Feb. 8, 1880, Munich
d. March 4, 1916, near Verdun, Fr.
German painter and printmaker, founding member of "The Blue Rider" group (see Blaue Reiter, Der), known for the intense nature mysticism of his paintings of animals.
http://www.britannica.com/bcom/eb/article/6/0,5716,52016+1,00.html
CGFA- Franz Marc
Carol L. Gerten (Jackson)


Franz Marc was a German painter who was one of the leading members of the expressionist Der Blaue Reiter (The Blue Rider) group. He was born in Munich. Marc is best known for his paintings of animals—particularly horses and deer—in which he attempted to express his mystical veneration of nature.
http://www.hol.gr/cjackson/marc/index.html
Franz Marc: Works Viewable on the Internet


Eine sehr umfangreiche Linksammlung zu den Online-Werken von Franz Marc in Museen, Gallerien, Bildarchiven und anderen Websites.
http://www.artcyclopedia.com/artists/marc_franz.html
Franz Marc Gallery


Marc was born in Munich in 1880 and studied at the Munich Art Academy before forming the Blaue Reiter artist circle with Wassily Kandinsky in 1911. Sadly, Marc died in action in World War I in 1916. Although his is not a household name, he has been acknowledged by art critics as an important force in German expressionism. In October, 1998, several of Marc's paintings garnered record prices at Christie's in London.
http://hs.riverdale.k12.or.us/~dthompso/art/marc/
WebMuseum: Marc, Franz


Franz Marc was born on February 8, 1880, in Munich, Germany. He studied at the Munich Art Academy and traveled to Paris several times where he saw the work of Gauguin, Van Gogh, and the Impressionists. With Kandinsky, he founded the almanac "Der Blaue Reiter" in 1911 and organized exhibitions with this name. He was a principal member of the First German Salon d'Automne in 1913. At the beginning of World War I, he volunteered for military service and he died near Verdun, France, on March 4, 1916.
http://www.oir.ucf.edu/wm/paint/auth/marc/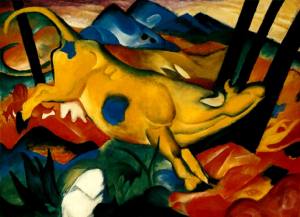 Franz Marc's Animal Paintings
Jonathan Esterhazy - jester@cc.umanitoba.ca


Franz MARC is the patron painter of the Manitoba Animal Rights Coalition - partly because I love his paintings, and partly because his last name is our acronym! His paintings, in addition to being colourful and exciting, show a profound sensitivity towards animals which a viewer cannot help but recognise. Could anyone really look at DIE GELBE KUH (The Yellow Cow) and still feel good about hamburger?
http://arrs.envirolink.org/marc/franz_marc.html
Franz Marc


Die Beliebtheit von Franz Marc beruht bis heute vor allem auf seinen Tierdarstellungen. Diese Bilder entstanden in nur knapp 4 Jahren und zwar zwischen 1911 und 1914. Seinen bekannten Malstil hatte er erst im 30. Lebensjahr entwickelt. Immer wieder hatte er auch in den Jahren zuvor Tierdarstellungen gemalt, die aber, was Form und Farbe anbelangte, eher gewöhnlich waren.
http://www.trickyart.de/altmeister/marc/menu.htm
Franz Marc
Franz Marc, German, 1880-1916

Franz Marc was concerned with the need for harmony and union with nature. Believing that animals achieved this harmony more successfully than human beings, he used them for the subject matter of his paintings. Early in his career he painted graceful and lyrical horses, cows, and deer inhabiting beautiful and peaceful landscapes. The scenes were painted with bright pure colors and filled with light.
By 1913, however, Marc sensed the impending disaster of world events. The Wolves (Balkan War) is a personal allegory of the 1912-13 war that ultimately led to World War I. He no longer used peaceful and gentle animals like horses and deer; instead, he presents a pack of wolves. Three approach from the right, while a fourth either turns to fight them or to escape the flames that reflect red on its body. The wolf in the middle ground is either asleep or dead, and the one in the distance looks menacingly beyond the edge of the painting to something viewers can only imagine. The landscape itself is in turmoil.
http://www.albrightknox.com/ArtStart/Marc.htm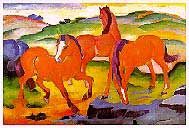 Cardrageous: Franz Marc
boxed set of notecards
galison books
The subject matter of Franz Marc (1880-1916) was the unconscious life of animals. Motivated by the pantheistic feeling of the Romantics, which was heightened by his association with Kandinsky, the artist's paintings represent humanity's desire to return to a state of harmony with the universe.



http://www.cardrageous.com/marclarge.html
Franz Marc Gymnasium - Markt Schwaben
eMail
Franz Marc Lebenslauf - eine tabellarische Übersicht
Künstlerisches Wirken
Das bestimmende Element im Leben und in der Kunst, man möchte fast sagen, der Leitfaden all seines Denkens und Handelns überhaupt, war für Franz Marc das Streben nach Reinheit und innerer Wahrheit. Hierfür schien ihm die Natur, insbesondere die Welt der Tiere, die geeignete Ausgangsbasis, um seine ideellen Vorstellungen verwirklichen zu können. So erklärt es sich auch, daß er schon frühzeitig versuchte, zu einer - wie er es nannte - Animalisierung der Kunst zu gelangen. Er wollte den Geheimnissen der Naturerscheinungen nachspüren, wollte sie in allen Einzelheiten ergründen, um schließlich das Natürliche auf eine geistige Ebene emporzuheben.