Allgemein

The differences among cultures are of greatest interest here, and reading about ancient cultures is thus reading about other people whose lives were surely different from our own. The social organization of Socrates' ATHENS -- where a gimpy-legged man could hobble around interrogating citizens at will -- differs profoundly from today's world beset with modern media whereby people rarely get to see or literally hear their critics. How can we today understand the psychology of the thousands of Egyptian workers who, apparently unquestioningly, spent their lives dragging great blocks of stone across burning sands in the construction of staggering pyramidal edifices whose completion took many lifetimes? Interestingly, these differences may help us better to see -- and know -- the limits of our culture and the limits of our language and experience.
http://eawc.evansville.edu/


Antikensammlung ERlangen Internet Archive
boss@hermes.phil.uni-erlangen.de
http://www.phil.uni-erlangen.de/~p1altar/aeriahome.html
Ancient/Classical History - Home Page
Subjects

Places
Alexander
Caesar
Calendars
Art
Mythology
Celts
Cleopatra
Early Church
Egypt/Kemet
Epic of Gilgamesh
Recreation
Greece
K-12: Myth
Language
Latin
Living/Dying
Medicine
Military
Money
Museums
People
Philosophers
For Professionals
Prostitution
Rhetoric
Rome
Rosetta Stone
Schools
Science


Essentials

Maps
The borders of ancient empires kept changing. Consulting these maps will help you figure out whether, in the period you're researching, the land was Roman, Greek, or something else.

Ancient Greece
Ancient Greece, the birthplace of democracy, also produced tragedy, philosophy, and realistic sculpture. Learn about these, the society, and the leaders of Athens and Sparta.

Mythology of the Sun and Moon
Encyclopedias to look up the names of fanciful creatures and the gods of ancient mythologies, as well as resources on sun and moon gods.

Degree Programs
Colleges and universities offering undergraduate and/or graduate degree programs in Classics and Ancient History -- or at least concentrations in those areas.

Ancient Egypt
Whether it's mummies, pharaohs, hieroglyphs, scarab beetles, pyramids, sphinxes, or just the romantic horror movies, there's something about Egypt for everyone.

Maps of Rome
The Roman Atlas shows the expanding and then diminishing borders of the Roman Empire, and individual maps of many Roman provinces.

Quote of the Day
Words of inspiration to start your day from Horace, Seneca, Pubilius Syrus, Aeschylus, Euripides, or Ovid.

Related Sites

Archaeology
Greece for Visitors
Historical Reenactment
Italy for Visitors
Latin Language
Literature - Classic
Medieval History
Military History
Philosophy
Women's History
http://ancienthistory.about.com/education/ancienthistory/mbody.htm
Lateinforum
Eine umfangreiche Linksammlung mit integrierter Suchfunktion.
Alte Geschichte | Ancient History

Archäologie | Archaeology

Mythologie | Mythology

Persönlichkeiten der Antike | Outstanding Persons of Antiquity

Pompeji - Troja | Pompeii - Troy

Römisches Leben | Roman Life
http://www.lateinforum.de/inhaltsv.htm
Online-Bezugsquellen für antike Texte
Sammlungen verschiedener antiker Texte
Erste Wahl bei der Suche:
Fallweise hilfreich:
Einzelne Autoren (chronologisch):
Gallica: digitalisierte Bestände der BNF aus dem 19. Jh., darunter Ausgaben von Tacitus, Ausonius, Priscian
The Last Days of Socrates (die einschlägigen Texte Platons)
The Hypertext Crito, composed by Tim Rohrer
Lukian (übersetzt von Christoph Martin Wieland)
Plautus: Auluraria - Text, Hypertext, Multimedia
Plautus: Aulularia (noch ein Versuch)
Catull
verschiedene Cicero-Texte
Cicero, Academica; Augustinus, Confessiones / de civitate dei / de trinitate; Thomas von Aquin, De ente et essentia
Caesar - De Bello Gallico III (didaktisch aufbereitet als "Acceleration Reader")
Konkordanz zu Aen. 4 in HTML
Cornelius Nepos: Hannibal (Thomas's revision of John Rolfe's commentary on Cornelius Nepos, Life of Hannibal)
Properz (mit apparatus criticus)
Hygini Fabulae
Plinius maior
Juvenal, 3. Satire
Claudian: Panegyricus de sexto consulatu Honorii Augusti
Claudian (mit apparatus criticus)
Konkordanz zu den Panegyrici Latini - Telnet-Verbindung, Login: sdbdemo
Isidor von Sevilla: De natura rerum (kritische Edition)
Historia Apollonii Regis Tyri
Gesta Romanorum
Nachantikes:
Suchmenu für Shakespeare, Pascal, Homer, Tacitus online (sic!)
Labyrinth-Bibliothek zum Mittelalter
Thesaurus Musicarum Latinarum, Indiana
Latin Poetry (neulateinisch)
Christliches:
Bible Gateway
Christian Classics Ethereal Library
Thesaurus Precum Latinarum
Patrologia Latina - ausführliche Informationen über die CD-ROM-Version
Kommerzielles:
Academicus Press - ein kommerzieller Anbieter von Texten für den Unterricht, antike Philosophie usw.
http://www.phil.uni-erlangen.de/~p2latein/ressourc/texte.html
The Philodemus Project
When Mount Vesuvius erupted in 79 A.D., it buried two towns. One of these was Pompeii, now among the most familiar archaeological sites in the world. The other was Herculaneum, a seaside resort which was home to the villas of wealthy Romans who would come to the beautiful Bay of Naples to escape the heat and hubbub of the capital.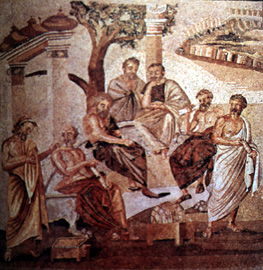 In 1752 workers tunneling into a large, wealthy villa which would have overlooked the Bay in antiquity discovered a large number of what appeared to be sticks of charcoal, some of them bundled together. Upon closer inspection, these sticks proved to be rolls of the ancient writing material papyrus. Numerous attempts to open these rolls and read their contents failed, due to their extreme fragility and the fact that they were burnt by the ca. 300 degree Celsius volcanic flow, compressed by the weight of rubble and mud, and congealed by water. Eventually, several hundred of the rolls were partly cut apart and partly unrolled. Most turned out to be works of Epicurean philosophy, with books by the first century B.C. Epicurean philosopher Philodemus of Gadara, who came to Italy around 80 B.C., especially well represented. Apparently, the Villa of the Papyri contained an extensive library, a significant part of which was formed by a library of Epicurean texts, some of which were present in more than one copy.
The Philodemus Project is an international effort which aims, supported by a major grant from the National Endowment for the Humanities and by the generous contributions of individuals and participating universities, to reconstruct new texts of Philodemus' works on Poetics, Rhetoric, and Music. These texts will be published, along with translations and notes, in a series of volumes by Oxford University Press.
http://www.humnet.ucla.edu/humnet/classics/philodemus/philhome.htm