Literatur
Projekt Gutenberg - DE
Projekt Gutenberg-DE - eine digitale Bibliothek:
Texte in deutscher Sprache von mehr als 300 Klassikern stehen bei uns online zur Verfügung. Mehr als 150.000 Buchseiten in über 35.000 Dateien. Unser Archiv wächst jeden Monat um etwa 5.000 Seiten. Das größte deutsche Internetarchiv?
http://www.gutenberg2000.de/
BÜCHER - Verzeichnis online kopierbarer Bücher
Markus Neteler - neteler@geog.uni-hannover.de
Eine umfangreiche Sammlung nützlicher Links zu online im Volltext verfügbaren Büchern.
http://www.grass-gis.de/bibliotheken/buecher.html
Project Gutenberg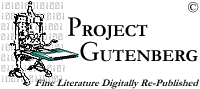 Fine Literature Digitally Re-Published. Sehr umfangreiche Sammlung klassischer Werke der Weltliteratur in verschiedensten Sprachen; indiziert nach Autor und Titel. Alle Texte sind auch als downloadbare ZIP-Files verfügbar.
The Project Gutenberg Philosophy is to make information, books and other materials available to the general public in forms a vast majority of the computers, programs and people can easily read, use, quote, and search. There are three portions of the Project Gutenberg Library, basically be described as: Light Literature; such as Alice in Wonderland, Through the Looking-Glass, Peter Pan, Aesop's Fables, etc. Heavy Literature; such as the Bible or other religious documents, Shakespeare, Moby Dick, Paradise Lost, etc. References; such as Roget's Thesaurus, almanacs, and a set of encyclopedia, dictionaries, etc.
We want people to be able to look up quotations they heard in conversation, movies, music, other books, easily with a library containing all these quotations in an easy to find etext format.
With Plain Vanilla ASCII you will be easily able to search an entire library, without any program more sophisticated than a plain search program.
http://www.gutenberg.net/
Deutsche Literatur im Internet - Sammlungen
James Campbell - campbell@virginia.edu
Deutsche Literatur im Internet: Textsammlungen und Autorenverzeichnis. Eine sehr umfangreiche Linksammlung.
http://viva.lib.virginia.edu/wess/germtext.html
Deutsche Literaturgeschichte
mcthree@snafu.de
Epochen
die Epochen der deutschen Literatur vom Mittelalter bis zum Ende des 20. Jahrhunderts in einer Übersicht
Biografien
Kurzbiografien von einigen Autoren
Register
Suchen Sie einen Autor im Autorenregister oder einen Titel im Titelregister.
Links
die wichtigsten Links zur deutschen Literaturgeschichte im Internet
http://home.snafu.de/mcthree/literatur/
Germanistik im Internet - Erlanger Liste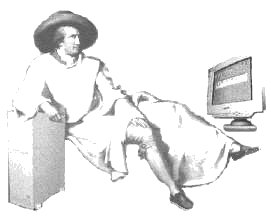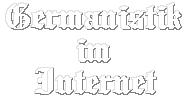 http://www.phil.uni-erlangen.de/~p2gerlw/ressourc/liste.html
Alte Quellen - klassische und mittellateinische Texte
Hans Zimmermann - hans.uma.zimmermann@t-online.de
Alte Quellen zum Thema "Schöpfung" und zum Weltbild der Antike und des Mittelalters Latein, Griechisch, Hebräisch, Sanskrit
http://home.t-online.de/home/03581413454/sprachen.htm
Hanover Historical Texts Project
luttmer@hanover.edu
In 1995, the History Department and Hanover students initiated the Hanover Historical Texts Project. The Project's principal aim is to make primary texts readily available to students and faculty for use in history and humanities courses.
http://history.hanover.edu/project.html
eserver.org - accessible writing
Scholarly and pedagogical resources for rhetoricians.
http://eserver.org/
Rhetoric and Composition Resources
Rhetoric, composition, and public speaking are not subjects that the average student enounters, but historically they were part of the building blocks of education. Two hundred years ago, these subjects were being taught to grade-school students.
http://www.guidetoonlineschools.com/library/rhetoric-composition
Wiretap Electronic Text Archive

gopher@wiretap.area.com



Wiretap is probably the single useful gopher resource remaining on the Internet. We plan to be considerably expanding our offerings in the near future. More books, more authors.

An Online Library of Literature
peter@literature.org

Paul Halsall/Fordham University: Internet History Sourcebooks Project
Paul Halsall - halsall@fordham.edu
The Internet History Sourcebooks are collectionsof public domain and copy-permitted historical texts presented cleanly (without advertising or excessive layout) for educational use. To find something located at this website use the Search page.
http://www.fordham.edu/halsall/

European Literature - Electronic Texts



Electronic Text Collections in Western European Literature.
This page lists Internet sources for literary texts in the western European languages other than English. Translations are mentioned only when they are included in collections of original language texts, or when they are themselves of interest. Collections are listed more or less in order of size; indivdual authors are listed alphabetically.
http://viva.lib.virginia.edu/wess/etexts.html
Bartleby.com: Great Books Online

Study Guides for Various Works
Paul Brians - brians@wsu.edu
Grouped here are study guides prepared by Professor Paul Brians of Washington State University for the use of students in his classes. Nonprofit users are welcome to use and reproduce them for educational purposes so long as full credit is given to the author. Please feel free to make corrections and/or additions by writing Prof. Brians.
http://www.wsu.edu:8080/~brians/guides_index.html
bibliotheca augustana
collectio textuum electronicorum - eine äußerst umfangreiche elektronische Textsammlung von den ältesten Epochen der lateinischen, griechischen, deutschen, englischen und französischen Literatur bis zur Gegenwart:
http://www.fh-augsburg.de/~harsch/augustana.html
The Latin Library
carey@patriot.net
These texts have been drawn from different sources. Many have been scanned and formatted from texts in the Public Domain. Others have been downloaded from various sites on the Net (some of which have since disappeared). An ever-growing number have been submitted from contributors around the world. Texts are occasionally submitted or uncovered on the Net without indication from which edition they might derive. If I am unable to indentify the edition (which is often the case), I have attempted to conform the text to an out-of-copyright edition, usually without the addition of any critical apparatus. Nor is any morphological aid presented with the texts -- for such assistance, visit the outstanding Perseus site, where the texts are presented section by section with morphological links. The texts presented here are obviously not intended as critical editions but simply as basic texts for on-line reading.
http://patriot.net/~lillard/cp/latlib
Perseus Project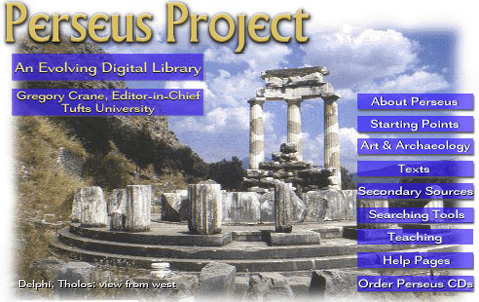 Werke der griechischen Klassik im griechischen Originaltext und in englischer Übersetzung.
The Perseus Project is an evolving digital library of resources for the study of the ancient world and beyond. Collaborators initially formed the project to construct a large, heterogeneous collection of materials, textual and visual, on the Archaic and Classical Greek world. Recent expansion into Latin texts and tools and Renaissance materials has served to add more coverage. Our primary goal is to bring a wide range of source materials to as large an audience as possible. Although members of the project have collected a large set of core data (roughly 225 gigabytes, at this writing), a good deal of the work done at the project focuses on how best to structure the framework for the massive set of texts, images, plans, and maps which comprise the library. In addition to gathering more materials, we continue to build and supplement our powerful set of searching and indexing tools. These tools are at the heart of our work: they form the connections between the various kinds of materials within Perseus and facilitate the exploration of these materials for general readers and specialists alike.
http://www.perseus.tufts.edu/
The Online Medieval and Classical Library
Douglas B. Killings - DeTroyes@EnterAct.Com



The Online Medieval and Classical Library (OMACL) is a collection of some of the most important literary works of Classical and Medieval civilization.
Additional information and texts can be had from the following Web Sites:
http://sunsite.berkeley.edu/OMACL/
The Internet Classics Archive: 441 searchable works of classical literature



Bringing the wisdom of the classics to the Internet since 1994.
Sponsored in part by the MIT Program in Writing and Humanistic Studies.
Select from a list of 441 works of classical literature by 59 different authors, including user-driven commentary and "reader's choice" Web sites. Mainly Greco-Roman works (some Chinese and Persian), all in English translation.
http://classics.mit.edu/