Piet Mondrian
Piet Mondrian Encyclopædia Britannica | article page
b. March 7, 1872, Amersfoort, Neth.


d. Feb. 1, 1944, New York City
original name PIETER CORNELIS MONDRIAAN, painter, leading exponent of the Dutch abstract-art movement known as de Stijl, whose work exerted a profound influence on 20th-century art, architecture, and graphic design. His early works followed the prevailing trend of Dutch landscape and still-life painting. After experimentation with Cubism, his mature "neoplastic" style emerged around 1920. This style was intended as a purely objective vision of reality based on the simplest harmonies of straight line, right angle, and the primary colours plus black and white.
http://www.britannica.com/bcom/eb/article/7/0,5716,54667+1,00.html

WebMuseum: Mondrian, Piet



http://metalab.unc.edu/wm/paint/auth/mondrian/
Biografie Piet Mondriaan
Eine tabellarische Übersicht über das Leben von Piet Mondrian.
http://park.org/Netherlands/pavilions/culture/mondriaan/eng/biography.html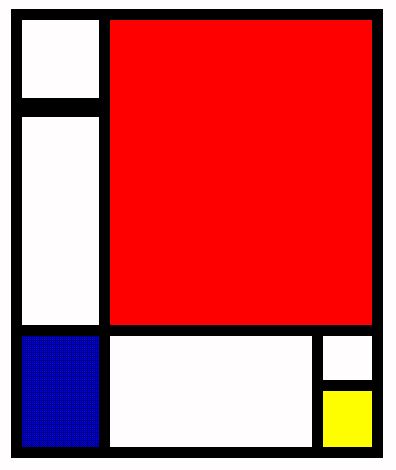 Celebrated Artists: Piet Mondrian
Perhaps one of this century's most profound artists, one that has demonstrated a great ability to create. He was an artist austerely devoted to his beliefs and commitments. He is known best for his days with the De Stijl and Neo Plastic movement, but his influence has grown to influence new styles of modernism to this day.
http://library.thinkquest.org/17142/celebrated-artists/mondrian.htm
MONDRIAN PIET (Pieter Cornelis Mondriaan 1872-1944)
Yvan Verelst - you2yvan@world.glo.be
In the early 1900s many artists tried various abstract ways of representing reality. Mondrian went beyond them. In his final compositions he avoided any suggestion of reproducing the material world. Instead using horizontal and vertical black lines that outline blocks of pure white, red, blue or yellow, he expressed his conception of ultimate harmony and equilibrium.
http://titan.glo.be/~gd30144/mondrian.html
Piet Mondrian



http://www.wisc.edu/arth/ah202/jmd/mondrian.html
Piet Mondrian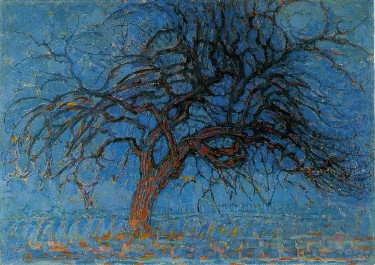 Focusing inwards is rejected by Mondrian when the object is rejected. Focusing inwards is involvement. Involvement with objects entails suffering. In the paintings of chrysanthemums - that most centripetal of flowers - there is a sense of concentration that is agonising. It is as if the artist were trying to hypnotise himself by gazing into this flower and as if he were trying to hypnotise the flower into suspending its process of growth, the process that will make the petals fall away, the flowers wilt and die (as it is seen to do in two of the paintings in the series). The rapt quality of the image seems to embody a longing to deny time, the flower is held together with a sort of desperation.
In the series of images of trees that followed, the forces of growth can no longer be held in. Growth is seen as an irresistible force moving through the tree - a river of life, spreading, demanding space into which it can expand. Pictures such as The Red Tree reflect not simply a tree seen now, but the way it has evolved, has lived, has been formed, is still in formation, will wither and die. In pictures such as The Blue Tree the urgency of the need to grow is such that it is as if the whole growth were telescoped into one explosive moment like a shellburst. Coursing with life, the trees are twisted images of torment and despair.
http://www.artchive.com/artchive/M/mondrian.html
Piet Mondrian
Piran Montford - piran@pobox.com
This is my collected list of internet based resources, links, and other bits and bobs for the artist Piet Mondrian.
http://www.aukword.demon.co.uk/piran/mondrian/
Piet Mondrian: Works Viewable on the Internet


"Everything in his life was reasoned or calculated. He was a compulsive neurotic and could never bear to see anything disordered or untidy. He seemed to suffer acutely, for instance, if a table had not been laid with perfect symmetry."
- Hannah Höch on Piet Mondrian, quoted by Edouard Rodit
Links to Museums, Galleries, Image Archives, Websites and Articles related to Piet Mondrian.
http://www.artcyclopedia.com/artists/mondrian_piet.html