Allgemein
My Inventions - The Autobiography of Nikola Tesla
Nikola Tesla, Ben Johnston (Editor)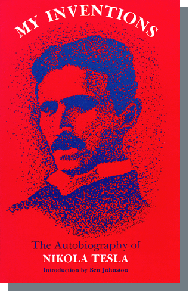 Nikola Tesla was born in Croatia (then part of Austria-Hungary) on July 9, 1856, and died January 7, 1943. He was the electrical engineer who invented the AC (alternating current) induction motor, which made the universal transmission and distribution of electricity possible. Tesla began his studies in physics and mathematics at Graz Polytechnic, and then took philosophy at the University of Prague. He worked as an electrical engineer in Budapest, Hungary, and subsequently in France and Germany. In 1888 his discovery that a magnetic field could be made to rotate if two coils at right angles are supplied with AC current 90Á out of phase made possible the invention of the AC induction motor. The major advantage of this motor being its brush less operation, which many at the time believed impossible.
Tesla moved to the United States in 1884, where he worked for Thomas Edison who quickly became a rival Edison being an advocate of the inferior DC power transmission system. During this time, Tesla was commissioned with the design of the AC generators installed at Niagara Falls. George Westinghouse purchased the patents to his induction motor, and made it the basis of the Westinghouse power system which still underlies the modern electrical power industry today. He also did notable research on high-voltage electricity and wireless communication; at one point creating an earthquake which shook the ground for several miles around his New York laboratory. He also devised a system which anticipated worldwide wireless communications, fax machines, radar, radio- guided missiles and aircraft.
Nikola Tesla is the true unsung prophet of the electronic age; without whom our radio, auto ignition, telephone, alternating current power generation and transmission, radio and television would all have been impossible. Yet his life and times have vanished largely from public access. This autobiography is released to remedy this situation.
http://www.lucidcafe.com/library/96jul/teslaautobio.html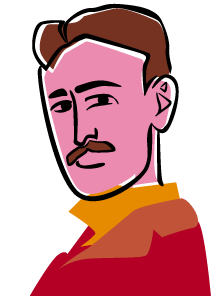 Hall of Fame - Nicola Tesla (1856-1943)
Nikola (sometimes spelled as Nicola) Tesla was born in Yugoslavia in 1856. His father was a priest as his mother an illiterate farmworker with a knack for invention. At the age of 24, while working for the American Telephone Company in Budapest, Tesla had a nervous breakdown.
During his recovery period, while walking through the park with a friend, Tesla got the idea of a new way to generate alternating current (AC) power. However, since he had no way to pay for parts and make the actual device, it would have to wait until later to be created.
http://madsciencelaboratories.com/halloffame/tesla.html
Nikola Tesla
Brent Turner - bturner@apc.net
Nikola Tesla was an electrical inventor, and lived during the late 1800's into the mid-1900's. He was a brilliant person, yet was an enigma to practically everyone. Known for his eccentric lifestyle, Tesla nevertheless maintained a rather high social profile, despite his prolific inventiveness. Some of his phobias included pearl earrings worn by women, never staying in a hotel room or floor whose number was divisable by three, and insisting on a large number of napkins at every meal with which he would meticulously polish his silverware. Tesla had a good number of friends, one of which was Samuel Clemmons, also known as Mark Twain.
Tesla's main claim to fame lay with his invention of the alternating current motor. Tesla believed that alternating current was vastly superior to (Edison's) direct current, but the problem was the lack of a practical motor. Alternating current is practical because of the fact that it can be altered or converted to suit a variety of situations. For example, if the voltage is made quite high, then the current necessary for a specific level of power is very low. This low current then becomes very efficient when sending electrical power over very long wires. (This is the reason why the power lines running across the countryside are at very high voltages.)
Tesla also worked with radio-frequency electromagnetic waves, and despite the claims made by Marconi, actually did invent the idea of Radio as we know it today. (There are numerous patents which bear this out.) In working with radio waves, Tesla created the Tesla coil as a means to generate and receive this form of energy.
Tesla eventually died, literally pennyless, on January 7th, 1943. It is rather sad that a man who gave the world so much, received so little for his efforts. History books have been unkind as well. Even today, many texts still credit Marconi with the invention of radio, despite the Supreme Court decision which overruled the Marconi patent, awarding it to Tesla. In many parts of this country, people still refer to the electric utility as the 'Edison Company', even though they use the Tesla-Westinghouse alternating current system, NOT Edison's direct current. At the Niagra Falls power generating station, a small statue of Tesla is purposely left unilluminated at night. It has been said that Tesla is the Forgotten Father of Technology. Tesla himself once commented "... The present is theirs. (skeptics of the day) The future, for which I really worked, is mine." How true indeed.
http://www.apc.net/bturner/tesla.htm
Nikola Tesla- inventor, engineer, scientist
Bogdan R. Kosanovic - bogdan@telogy.com
The Serbian-American inventor, electrical engineer, and scientist
Born on July 9/10, 1856 in Smiljan, Lika (Austria-Hungary)
Died on January 7, 1943 in New York City, New York (USA)
Inventions: a telephone repeater, rotating magnetic field principle, polyphase alternating-current system, induction motor, alternating-current power transmission, Tesla coil transformer, wireless communication, radio, fluorescent lights, and more than 700 other patents.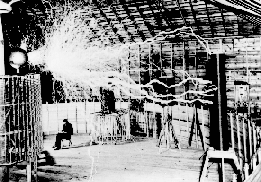 http://www.neuronet.pitt.edu/~bogdan/tesla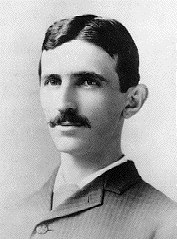 Nikola Tesla
Ron Kurtus - ron@ronkurtus.com
Nikola Tesla was a prolific inventor who emigrated to America, worked for Thomas Edison, and was later instrumental in the development of alternating current (AC) electricity. He was a genius who seemed short-changed in his quest for fame and fortune in science.
Tesla was a person with a tremendous curiosity of things scientific. Add to that was his focus, hard work and his creative genius. These factors all contributed to the number of outstanding inventions he created throughout his life.
http://www.school-for-champions.com/biographies/tesla.htm
THE SPIRIT OF TESLA
The spirit of Nikola Tesla continues to reach out from the past. Experimenters and Researchers, who have made do with their own resources, have identified with the trials and travails of Nikola Tesla and his huge successes in spite of the odds against him. His character and drive were key to his scientific achievements. It seems to us that as a person who struggled and fought for his science and for man in general, he set a tone for responsible solutions to big problems.
http://www.tesla.org/
Tesla, Nikola - Man out of Time
Nick Francesco
Tesla invented just about everything. As you work on a computer, remember Tesla. His Tesla Coil supplies the high voltage for the picture tube you use. The electricity for your computer comes from a Tesla-designed AC generator, is sent through a Tesla transformer, and gets to your house through 3-phase Tesla power.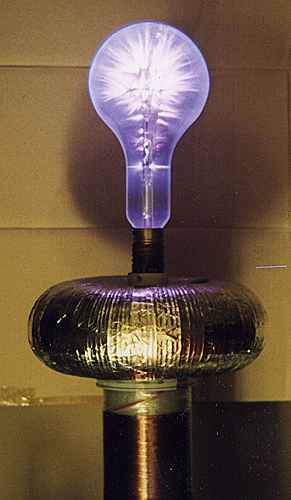 Here's a short list of some of the stuff he invented:

And then, of course, there's that mysterious "black box..."

http://www.nickf.com/tesla.htm

Rich's Tribute to Nikola Tesla
Richard Pate
What follows here is a listing of pages about Nikola Tesla and therefore comprise my tribute to a man that was very gifted and talented, and unfortunately, he is all but forgotten and almost completely unacknowledged in the technological field.
http://www.advancedtomfoolery.com/teslatoc.htm

Tesla Resources Site
Kevin Nardelle - knardell@accesscom.net
Nikola Tesla: All the information you need for building or researching Tesla's Inventions. Detailed instructions on building tesla coils and components.
http://www.icorp.net/users/kev/tesla/

WIRELESS ELECTRICITY
Melvin D. Saunders - seeker@tiac.net
A Tesla coil is a special transformer that takes a small amount of power and boosts it rapidly to a great deal of power. The high-frequency output of even a small Tesla coil can light up fluorescent tubes held several feet away without any wire connections. Even a large number of spent or discarded fluorescent tubes (their burned out cathodes are irrelevant) will light up if hung near a long wire running from a Tesla coil while using less than 100 watts drawn by the coil itself when plugged into an electrical outlet! Since the Tesla coil steps up the voltage to such a high degree, the alternating oscillations achieve sufficient excitations within the tubes of gases to produce lighting at a minimal expense of original power! Fluorescent tubes can be held under high-tension wires to produce the same lighting up effect.
http://www.tiac.net/users/seeker/froc/wireless.html

Complete Listing of Tesla's Patents
email

http://ds.dial.pipex.com/town/avenue/xdk96/invn.html

Nikola Tesla Information Source

Australian Nikola Tesla Society
After starting out with about 20 members in 1993, the Australian Nikola Tesla Society has slowed down and become inactive in the last few years. This was mainly due to the instigators of the society having other important personal life commitments.

However, the intention is to resurrect the society in the latter part of 1999. ANTS will be based in the city of Melbourne, Victoria, Australia and will hold regular meetings there, because that's were most of the past members have come from. All the original members of ANTS will be invited to retain their "founding" membership and given a new term of membership based on the amount of fees they paid in the past.

Interstate "branches" will operate throughout Australia where a few members live in relative close proximity. Overseas members will be welcomed. If you would like to find out more information please contact Glenn Baddeley by email.
http://home.mira.net/~ants/index.html

Edison Vs. Tesla - The War of the Currents
Ariel Amir - ariela@leyada.jlm.k12.ac.il
At the time of Thomas Edison and Nikola Tesla, less than a hundred years ago, electricity was virtually not used. Of course, in 1889 J.J.Thompson discovered the elctron, and before that Ohm and a few of his physicians friends investigated the nature of elctricity and magnetism, and they should be credited for their excellent work, and yet, they didn't make their discoveries come to life. Electricty was not useful for the ordinary person. Until...
http://www.leyada.jlm.k12.il/proj/edsntsla/hist1.htm

Nikola Tesla Museum
The Museum of Nikola Tesla in Belgrade keeps complete personal belongings of Nikola Tesla, which were, according to his last will and thanks to the exceptional efforts of his nephew Sava Kosanović, collected and transfered to Belgrade after his deathin New York in 1943. The wealth of arhive material, consisting of more than 150.000 various document referring to the life and creative work of Nikola Tesla, as well as the significance of his inventions which are presented at the exhibition, make this Museum a unique institution both in Yugoslavija and in the world.

http://www.yurope.com/org/tesla/

NIKOLA TESLA - Forgotten American Scientist
John W. Wagner - jwwagner@jwwagner.cnc.net
Readers, we are not talking about an obscure inventor lost in history, nor are we talking about a mad scientist who performed magic. Nevertheless, in the nineteenth century when he made his early discoveries, they may have seemed like magic. We are talking about a man whose major scientific gifts to the world (of AC power transmission and Radio), more than anything else, caused a Second Industrial Revolution...
http://www.ntesla.org