Allgemein
CULTURAL MAP OF HELLAS
Your charming voyage into Hellenic Culture passes through the Map of Hellas. You can approach Museums, Archaeological Sites or Monuments of a region in two ways:
Select a district of the country on the following map.
Select directly the district from the tables underneath the map.
If you wish to approach directly a specific Museum, Archaeological Site or Monument, you can use our Search Engine.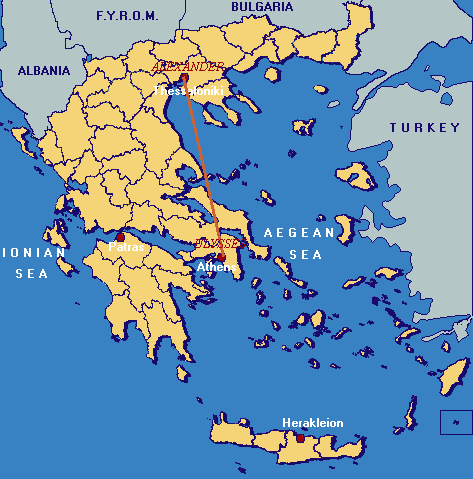 http://www.culture.gr/maps/hellas.html
Pausanias, Description of Greece
http://perseus.csad.ox.ac.uk/cgi-bin/ptext?doc=Perseus:abo:tlg,0525,001
THE ANCIENT CITY OF ATHENS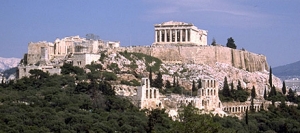 is a photographic archive of the archaeological and architectural remains of ancient Athens (Greece). It is intended primarily as a resource for students of classical art & archaeology, civilization, languages, and history at Indiana University as a supplement to their class lectures and reading assignments and as a source of images for use in term papers, projects, and presentations. We also hope that this site will be useful to all who have an interest in archaeological exploration and the recovery, interpretation, and preservation of the past.
http://www.indiana.edu/~kglowack/athens/
HELLAS.NET
Martijn Moerbeek - marsares@monolith.student.utwente.nl
This site will take you on a voyage through long forgotten ages, to a place which is distant from ours, far removed in space, time and scale. A place where the Greeks worshipped many Gods, owned slaves and had different ideas about sex. To see that such things can be true of people who in some ways we find intelligible and recognizable can help to deliver us from the tyranny of the present, from the assumption that our habits of action and thought are really inescapable, and from the idea that there are no alternatives. That is the liberating power of the past.
http://monolith.yawc.net/~marsares/
A digital presentation of The Ancient Greek World, drawn from an exhibit in the Museum's Rodney S. Young Gallery and from the Museum's Expedition magazine. The artifacts you will see here tell a vivid story of life in ancient Greece. The text expands on this story, and together they create a detailed interpretation of Greek art and material culture.
http://www.museum.upenn.edu/Greek_World/Intro.html
Graeca im Internet
Graeca - Vielfältige Fundstellen zum Unterricht in Altgriechisch
http://www.graeca.de/