Allgemein
DARWIN AND DARWINISM
John H. Wahlert - John_Wahlert@baruch.cuny.edu
The subject--Darwin and Darwinism--has broad and deep effects in the several disciplines of the arts and humanities and in contemporary culture, and it presents an opportunity to improve the science literacy of future business people, educators, and citizens.
http://darwin.baruch.cuny.edu/index.html
The C. Warren Irvin, Jr., Collection of Charles Darwin and Darwiniana
text by Roger Mortimer, hypertext by Jason A. Pierce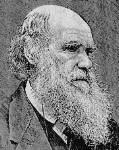 originally exhibited May-June 1992
Thomas Cooper Library, University of South Carolina
The C. Warren Irvin Jr. Collection has been formed carefully to reflect Darwin's writings and interests and to place them in the context of the work of his immediate predecessors, his grandfather Erasmus Darwin, Thomas Robert Malthus, Jean Baptiste Lamarck and Sir Charles Lyell; and of his principal colleagues and followers, Alfred Russel Wallace (who formulated the theory of evolution by natural selection simultaneously with and independently of Darwin), Thomas Henry Huxley, and Darwin's cousin Francis Galton, founder of the study of eugenics.
http://www.sc.edu/library/spcoll/nathist/darwin/darwin.html
URBANOWICZ on DARWIN
Charles F. Urbanowicz - curbanowicz@oavax.csuchico.edu
The paper deals with some of the scientific research of Charles R. Darwin (1809-1882), specifically his monumental 1859 publication entitled On The Origin of Species by Means of Natural Selection or the Preservation of Favoured Races in the Struggle for Life. This paper also points out the "human" side of this most noted of human beings and Darwin's ideas are presented in the context of his times. Today, Darwin's theory of "natural selection" is hopefully well known but how did the culture of his times influence his ideas and the development and acceptance of his theory? What happened before Darwin published Origin and what came after his numerous other publications? Charles Darwin was an extremely important individual for a variety of reasons: the data he collected, the experiments he conducted, and the theories he proposed influenced a variety of disciplines, from anthropology to zoology as well as ecology, geology, and the general social sciences. His influence continues to be condemned, supported, and debated after almost 150 years.
http://www.csuchico.edu/~curban/Darwin/DarwinSem-S95.html
CHARLES DARWIN - The Origins of Doubt and the Rebirth of Praise
Charles P. Henderson, Jr.
One cannot begin to fathom the dilemma of western culture without reflecting upon Charles Darwin and The Origin of Species. Obviously, Darwin's theories about the evolution of life on this planet stand at the very center of the controversy between science and religion. We are reminded of this by the increasing efforts of creationists to gain equal time for the Bible in the public schools of America, but these rearguard efforts to turn back the pages of history and re-enact the Scopes trial are of far less significance than the continuing cold war between the world's leading scientists and theologians. For this is a controversy being conducted not in the rural countryside of Arkansas and Nebraska but in the leading universities and at the most advanced frontiers of human thought.

In Darwin's age and in reaction against the stranglehold which the doctrine of special creation had upon the human imagination, it may have been necessary to construct a secular science, free of all appeals to God. In the closing moments of the twentieth century, however, when nature is not generally taken to be a window looking out upon divinity, it is an opportune moment to recapture something of the grandeur in this view of life. Nature is at once a sequence of events ascertained by science and an act of God. It may be time, in other words, to repair the breach that has opened up between the Darwins and the Paleys, to acknowledge that they were never that far apart, and to continue searching for a conception of the origin, end, and purpose of life that invites not only our continuing study but also our praise.
http://www.crosscurrents.org/darwin.htm
Charles Darwin - The Truth?
Andrew J. Bradbury - bradburyac@mistral.co.uk
This is the story of not one but four men - Charles Darwin, Edward Blyth, Charles Lyell and Alfred Wallace. Each of them played a crucial role in the development and eventual publication of The Origin, but maybe not the ones we are familiar with.
Appendices - The full text of Blyth's papers from 1835-37
Biographie
Charles Darwin: Encyclopädia Britannica | article page
b. Feb. 12, 1809, The Mount, Shrewsbury, Shropshire, Eng.
d. April 19, 1882, Down House, Downe, Kent.
in full CHARLES ROBERT DARWIN English naturalist renowned for his documentation of evolution and for his theory of its operation, known as Darwinism. His evolutionary theories, propounded chiefly in two works--On the Origin of Species by Means of Natural Selection (1859) and The Descent of Man, and Selection in Relation to Sex (1871)--have had a profound influence on subsequent scientific thought.
http://www.britannica.com/bcom/eb/article/0/0,5716,117775+1+109642,00.html
Charles Darwin - British Naturalist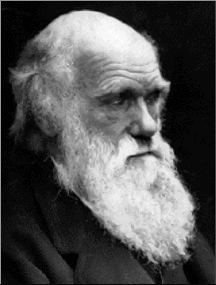 Charles Darwin was born on February 12, 1809 in Shrewsbury, England. He was the British naturalist who became famous for his theories of evolution and natural selection. Like several scientists before him, Darwin believed all the life on earth evolved (developed gradually) over millions of years from a few common ancestors.
Darwin's theory of evolutionary selection holds that variation within species occurs randomly and that the survival or extinction of each organism is determined by that organism's ability to adapt to its environment. He set these theories forth in his book called, "On the Origin of the Species by Means of Natural Selection, or the Preservation of Favoured Races in the Struggle for Life" (1859) or "The Origin of the Species" for short. After publication of Origin of Species, Darwin continued to write on botany, geology, and zoology until his death in 1882. He is buried in Westminster Abbey.
http://www2.lucidcafe.com/lucidcafe/library/96feb/darwin.html

Charles Darwin: Time Line
http://honors.ccsu.ctstateu.edu/Honors/EText/Darwin/DarwinTimeLine.html
Charles Darwin, 1809-1882
Steven Kreis - stevek@pagesz.net
Charles Darwin, the discoverer of natural selection, was born at Shrewsbury. After five years at Shrewsbury grammar school, Darwin studied medicine at Edinburgh University (1825-27) and then, with a view to the Church, entered Christ's College, Cambridge (1828). It was at Cambridge that his biological studies began in earnest. came acquainted with Professor Henslow who encouraged his interest in zoology and geology. In 1831 Darwin received his B.A. and shortly afterwards was recommended by Henslow as naturalist aboard the H. M. S. Beagle, then about to begin a scientific survey of South American waters. By 1846 he had published several works on the geological and zoological discoveries of his voyage -- works that placed him in the front rank of mid-19th century scientists.
He formed a friendship with Sir Charles Lyell (1797-1875), was secretary of the Geological Society (1838-41) and in 1839 was elected a Fellow of the Royal Society. From 1842 he spent his time in Kent as a country gentleman among his gardens and conservatories. At Kent he devoted his attention to the great work of his life -- the problem of the origin of species. Darwin then set to work on The Origin of Species by means of Natural Selection, which was published in November 1859. He then began to write a number of supplemental works including: The Fertilisation of Orchids (1862), The Variation of Plants and Animals under Domestication (1867), and The Descent of Man (1871). In this latter work, Darwin suggested that man descended from a hairy quadrumanous animal belonging to to the great anthropoid group, and related to the progenitors of the orangutan, chimpanzee, and gorilla.
A prolific author, Darwin also composed the following works: The Expression of the Emotions of man and Animals (1873), Insectivorous Plants (1875), Climbing Plants (1875), The Effects of Cross and Self Fertilisation in the Vegetable Kingdom (1876), Different Forms of Flowers in Plants of the same Species (1877), The Power of Movement in Plants (1880), and The Formation of Vegetable Mould through the action of Worms (1881).
Darwin will be remembered as the leader of evolutionary biology. Although he was not the originator of the theory of evolution, nor even the first to apply the notion of descent to plants and animals, Darwin was clearly the first thinker to gain widespread acceptance among nineteenth century biologists.
Darwin died suddenly, 19 April 1882, and was buried in Westminster Abbey.
E-Texts and Resources:
http://www.pagesz.net/~stevek/europe/darwin.html
Charles Darwin (1809-82)
Peter Landry - peteblu@blupete.com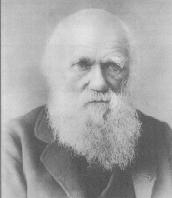 Darwin is the first of the evolutionary biologists, the originator of the concept of natural selection. His principal works, The Origin of the Species by Means of Natural Selection (1859) and The Descent of Man (1871) marked a new epoch. His works were violently attacked and energetically defended, then; and, it seems, yet today.
The theory as presented in Darwin's The Origin of the Species, I should say, was not new to the world and it cannot be attributed to Darwin. The theory, contrary to popular belief has been around since Aristotle and Lucretius. Darwin's contribution is that he gathered indisputable evidence, and he set forth a theory on how evolution works, the theory of natural selection. Darwin:

"It may be said that natural selection is daily and hourly scrutinising, throughout the world, every variation, even the slightest; rejecting that which is bad, preserving and adding up all that is good; silently and insensibly working, whenever and wherever opportunity offers, at the improvement of each organic being in relation to its organic and inorganic conditions of life. We see nothing of these slow changes in progress, until the hand of time has marked the long lapses of ages, and then so imperfect is our view into long past geological ages, that we only see that the forms of life are now different from what they formerly were." (Origin, Chapter 4 - "Natural Selection.")
http://www.blupete.com/Literature/Biographies/Science/Darwin.htm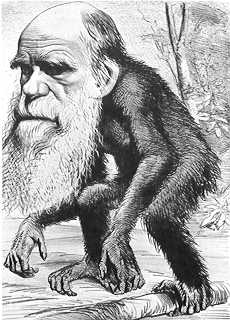 Charles Darwin
D. I. Loizos
Charles Darwin (1809-1882) was an an English naturalist whose theory of evolution is one of the greatest contributions ever made to science. Darwin stated this theory in his book The Origin of Species (1859). In another book called The Descent of Man (1871 ) he applied his theory to the evolution of man from a primitive monkey-like animal. Both books aroused world-wide controversy. Many considered them to be offensive, atheistic, blasphemous and Darwin's caricatures were published in magazines. Although later research has modified or disproved some of Darwin's findings, scientists still accept his basic ideas.
http://users.hol.gr/~dilos/prehis/prerm2.htm

Charles Robert Darwin (1809-1882)
Shino
A brief chronology.
Charles Robert Darwin was born on 12 February,1809 fifth of six children of Robert Waring Darwin and Susannah,daughter of Josiah Wedgwood.

In 1859,he published,with much reluctance,the Origin of Species which created so much havoc in victorian society,esp.the people of divinity.

In 1882,he died on 19th April.