Allgemein
Wissenschaftlicher Apparat zu Kekulés Traum
Rudolf Sponsel & Irmgard Rathsmann-Sponsel - sgipt@fen.baynet.de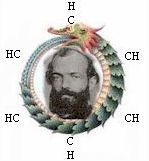 Hauptartikel Kekulés Traum (vom Hauptartikel aus kann man sich durchklicken und verweilen wo man möchte)
Über eine typisch-psychoanalytische Entgleisung Alexander Mitscherlichs über den bedeutenden Naturwissenschaftler und Chemiker August Kekulé (1829-1896), Mitschöpfer der Valenz-, Vollender der Strukturtheorie und Entdecker der Bedeutung des Benzolrings. Alternative Analyse und Deutung aus allgemeiner und integrativer psychologisch -psychotherapeutischer Sicht.
Ich empfehle, hiermit zu beginnen und sich je nach Lust, Laune, Interesse hindurchzuklicken.
Durch die Präsentation sonst schwer zugänglicher Dokumente und Illustrationen können sich Interessierte an der Erforschung, Diskussion und Kritik zu Kekulés Träumen beteiligen.

http://www.fen.baynet.de/sgipt/th_schul/pa/kek/kek_ueb.htm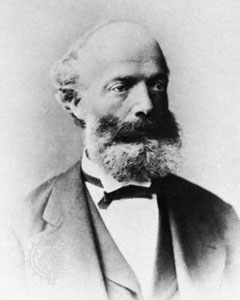 Kekule von Stradonitz, (Friedrich) August
b. Sept. 7, 1829, Darmstadt, Hesse
d. July 13, 1896, Bonn

chemist who laid the groundwork for the modern structural theory in organic chemistry. Intending to be an architect, he entered the University of Giessen but came under the influence of Justus von Liebig and switched to chemistry.

After receiving his doctorate (1852) he studied at Paris, where he met Charles-Frédéric Gerhardt, from whose type theory of organic structure Kekule developed his own ideas. He became a lecturer at the University of Heidelberg (1856) and professor of chemistry at Ghent, Belg. (1858). He moved to Bonn in 1865.

His early training in architecture may have helped him conceive his structural theories. In 1858 he showed that carbon is tetravalent and that its atoms can link together to form long chains. This idea, which opened the way to an understanding of aliphatic compounds, was announced almost simultaneously, but independently, by Archibald Scott Couper.
http://www.britannica.com/seo/f/friedrich-august-kekule-von-stradonitz/

Friedrich August von Kekule


Friedrich August von Kekule had a dream of whirling snakes, of the structure of benzene - the organic chemical compound made up of a ring of carbon atoms. He reported the dream in the following words many years after it took place, in a speech at a dinner commemorating his discovery.
I turned my chair to the fire [after having worked on the problem for some time] and dozed. Again the atoms were gamboling before my eyes. This time the smaller groups kept modestly to the background. My mental eye, rendered more acute by repeated vision of this kind, could not distinguish larger structures, of manifold conformation; long rows, sometimes more closely fitted together; all twining and twisting in snakelike motion. But look! What was that? One of the snakes had seized hold of its own tail, and the form whirled mockingly before my eyes. As if by a flash of lighting I awoke... Let us learn to dream, gentlemen.
Arthur Koestler (in "The Act of Creation") called this incident "probably the most important dream in history since Joseph's seven fat and seven lean cows.
http://www.ozemail.com/~caveman/Creative/Brain/kekule.htm
Friedrich August KEKULE, later Kekulé von Stradonitz.
Rod Beavon - rod.beavon@westminster.org.uk
Born: Darmstadt, Germany, 7th September 1829.
Died: Bonn, 13th July 1896.
Kekulé originally studied architecture, but became interested in Chemistry when he heard Liebig (of condenser fame) give evidence in a murder trial. His creative period began with a stay in London (1854-5) as assistant to J Stenhouse at St Bartholomew's Hospital. From 1855-58 he was Privatdozent (Lecturer) in Heidelberg, where he debated with J F W von Baeyer (of strain theory), and was then successively professor at Ghent (1858) and Bonn (1867)
http://www.rod.beavon.clara.net/kekule.htm
FRIEDRICH AUGUST KEKULÉ:
A SCIENTIST AND DREAMER
Mary E. Rothermich, Nancy Zipprich - lpt@www.woodrow.org
Friedrich August Kekulé was born on September 7, 1829 in Darmstadt, Germany. His family descended from a Czech line of a Bohemian noble family. As a youth his hobbies included hiking, botany, collecting butterflies, and sketching. His friends remembered that he enjoyed the opportunity to debate, had a quick wit and was very amiable. He started his schooling at the Gymnasium in Darmstadt and was a good student with an aptitude for languages, which eventually led to his ability to speak French, Italian, and English, as well as his native German. He also had a talent for drawing and it was his family's intent that he become an architect. Although he had delicate health as a youth, he became a robust, healthy adolescent with an interest in gymnastics by the time he graduated in 1847. He loved dancing and juggling, and was a talented and entertaining mimic.
http://www.woodrow.org/teachers/ci/1992/Kekule.html
Archibald Scott Couper
and
August Kekule von Stradonitz
Maryellen Nerz-Stormes
In 1857, Kekule proposed that carbon was tetravalent.
In 1858, Kekule and Couper, two very imaginative thinkers (remember they did not have the analytical tools like IR and NMR that we have available today!!), simultaneously and independently recognized that carbon atoms can link to each other to form chains. Prior to this thinking, it was believed that molecules could only have one central atom. This idea made it much easier to explain the multitude of organic compounds that were being discovered.
http://www.brynmawr.edu/Acads/Chem/mnerzsto/couper-stradonitz.htm
KEKULE VON STRADONITZ Friedrich August (1829-1896)
On est redevable à Kekule d'avoir fondé la chimie organique structurale, c'est-à-dire une théorie qui, dans sa première formulation, assigne aux atomes des positions dans les molécules qu'ils composent, en vertu de principes géométriques, sans mettre en question la nature des forces de liaison interatomiques. Les vues de Kekule sur l'enchaînement des atomes de carbone dans les molécules organiques ont contribué de manière décisive à clore le long débat entre théorie des types et théorie des radicaux qui partageait les chimistes de la première moitié du XIXe siècle. Ses conceptions ont, en outre, validé le caractère opératoire de la notion de valence, en dépit de son attachement à une définition trop restrictive du concept ; mais sa conviction que chaque élément était doté d'une atomicité invariable détermina sa description structurale et, par voie de conséquence, tout le devenir de la chimie organique. La théorie du benzène atteste la fécondité des symbolismes graphiques comme instrument de connaissance approchée.
http://histoirechimie.multimania.com/Lien/KEKULE.htm