Albert Einstein
"I want to know how God created this world. I am not interested in this or that phenomenon, in the spectrum of this or that element. I want to know His thoughts; the rest are details." -- Albert Einstein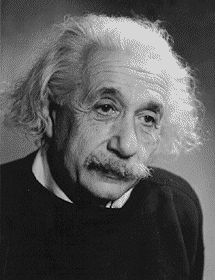 Einstein Archives Online
The Einstein Archives Online Website provides the first online access to Albert Einstein's scientific and non-scientific manuscripts held by the Albert Einstein Archives at the Hebrew University of Jerusalem and to an extensive Archival Database, constituting the material record of one of the most influential intellects in the modern era.
The site allows viewing and browsing of approx. 3,000 high-quality digitized images of Einstein's writings.
The site enables access to the online version of the Albert Einstein Archives Finding Aid, a comprehensive description of the entire repository of Albert Einstein's personal papers held at the Hebrew University.
The Archival Database allows direct access to approx. 43,000 records of Einstein and Einstein related documents.
http://www.alberteinstein.info
Albert Einstein Online
S. Morgan Friedman
Eine sehr umfangreiche, gut gegliederte Linksammlung zu Leben und Werk von Albert Einstein. Vorwiegend in englischer Sprache.
http://www.westegg.com/einstein/
Einstein
Einstein earned a doctorate from the University of Zurich in 1905 for a thesis On a new determination of molecular dimensions.
In the first of three papers, all written in 1905, Einstein examined the phenomenon discovered by Max Planck, according to which electromagnetic energy seemed to be emitted from radiating objects in discrete quantities. The energy of these quanta was directly proportional to the frequency of the radiation.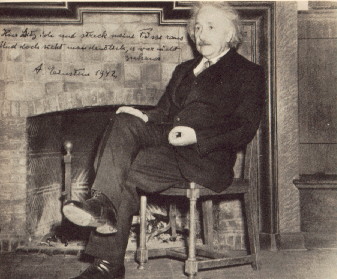 Einstein's second 1905 paper proposed what is today called the special theory of relativity. He based his new theory on a reinterpretation of the classical principle of relativity, namely that the laws of physics had to have the same form in any frame of reference. As a second fundamental hypothesis, Einstein assumed that the speed of light remained constant in all frames of reference, as required by Maxwell's theory. Later in 1905 Einstein showed how mass and energy were equivalent.
The third of Einstein's papers of 1905 concerned statistical mechanics, a field of that had been studied by Ludwig Boltzmann and Josiah Gibbs.
After 1905 Einstein continued working in the areas described above. He made important contributions to quantum theory, but he sought to extend the special theory of relativity to phenomena involving acceleration. The key appeared in 1907 with the principle of equivalence, in which gravitational acceleration was held to be indistinguishable from acceleration caused by mechanical forces. Gravitational mass was therefore identical with inertial mass. About 1912, Einstein began a new phase of his gravitational research, with the help of his mathematician friend Marcel Grossmann, by expressing his work in terms of the tensor calculus of Tullio Levi-Civita and Gregorio Ricci-Curbastro. Einstein called his new work the general theory of relativity. When British eclipse expeditions in 1919 confirmed his predictions, Einstein was idolised by the popular press. Einstein received the Nobel Prize in 1921 but not for relativity rather for his 1905 work on the photoelectric effect.
http://www-groups.dcs.st-and.ac.uk/history/Mathematicians/Einstein.html
Einstein-Image and Impact. AIP History Center exhibit.
"One thing I have learned in a long life: that all our science, measured against reality, is primitive and childlike -- and yet it is the most precious thing we have."
From before 1920 until his death, Einstein struggled to find laws of physics far more general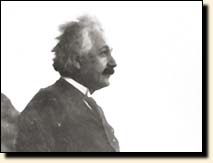 than any known before. In his theory of relativity, the force of gravity had become an expression of the geometry of space and time. The other forces in nature, above all the force of electromagnetism, had not been described in such terms. But it seemed likely to Einstein that electromagnetism and gravity could both be explained as aspects of some broader mathematical structure. The quest for such an explanation -- for a "unified field" theory that would unite electromagnetism and gravity, space and time, all together -- occupied more of Einstein's years than any other activity.
http://www.aip.org/history/einstein/
Albert Einstein Home Page
Jesse Ralston - gralsto@humboldt1.com
"I want to know how God created this world. I am not interested in this or that phenomenon, in the spectrum of this or that element. I want to know His thoughts; the rest are details." -- Albert Einstein
http://www.humboldt1.com/~gralsto/einstein/einstein.html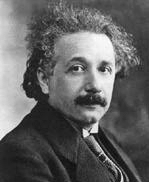 Albert Einstein
Born: 14 March 1879 in Ulm, Baden-Wurttemberg, Germany
Died: 18 April 1955 in Princeton, New Jersey, USA
Albert Einstein, "The Naked King of Physics," contributed more than any other scientist to the modern vision of physical reality. His theory of relativity is held as human thought of the highest quality. Einstein was a man ahead of his time with ideas no one had ever dealt with before. Through his work he earned fame and fortune, but he also earned hate and mistrust. Albert's formula "E=mc2" was linked to the construction of the Atomic Bomb, something Albert had never intended his work to be used for.
Albert Einstein is undoubtedly one of the most fascinating and influential figures of the modern era. Einstein won the Nobel Prize and worked for the world peace. As a preeminent physicist, he radically transformed our understanding of the universe. As an ardent humanist, he took an active and outspoken stance on the significant political and social issues of his time.
http://www.theworldofscience.com/einstein.html
Einstein by James Gleick
James Gleick
In this busy century, dominated like no other by science—and exalting, among the human virtues, braininess, IQ, the ideal of pure intelligence—he stands alone as our emblem of intellectual power. We talk as though humanity could be divided into two groups: Albert Einstein and everybody else.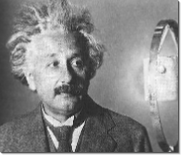 He discovered, just by thinking about it, the essential structure of the cosmos. The scientific touchstones of our age—the bomb, space travel, electronics—all bear his fingerprints.
Humanity was standing on a brink, ready to see something new. It was Einstein who saw it. Space and time were not apples and oranges, but mates—joined, homologous, inseparable. "Henceforth space by itself, and time by itself, are doomed to fade away into mere shadows," said Herman Minkowski, a teacher of Einstein's and one of relativity's first champions, "and only a kind of union of the two will preserve an independent reality." Well, we all know that now. "Spacetime," we knowingly call it. Likewise energy and matter: two faces of one creature. E = mc2, as Einstein memorably announced.
http://www.around.com/einstein.html
Welcome to A.E Homepage
Yashar Maleki
einstein's biography - eintein's photo gallery - some of einstein's quotes - einstein's theories and works - other einsteinian pages links
http://www.geocities.com/CapeCanaveral/Hangar/6469/ein.htm
Albert Einstein's Scientific Works
http://www.humboldt1.com/~gralsto/einstein/scien.html
Die Allgemeine Relativitätstheorie
Martin Kornelius - martin@kornelius.de
leicht verständlich erzählt als Bildergeschichte
· · eine kleine Einführung in die Ideen Albert Einsteins · · ·
Noch kürzer, noch einfacher: der schnelle Einstieg in die Allgemeine Relativitätstheorie. Einfache Fragen, einfache Antworten: Ganz einfach...
http://www.kornelius.de/arth/index.html
Einstein, Albert, the Theory of Relativity
Einstein, Albert (1879-1955), German-born American physicist and Nobel laureate, best known as the creator of the special and general theories of relativity and for his bold hypothesis concerning the particle nature of light. He is perhaps the most well-known scientist of the 20th century.
Teils in englischer, teils in italienischer Sprache.
http://www.italysoft.com/curios/einstein.htm
Special Relativity theory made intuitive
Sylvain Poirier
Here is presented a new approach to explain the deep mathematical meaning of Special Relativity theory, written like a philosophical analysis with few but powerful formulas, and based on a transfer of the Euclidean geometric tools and intuition to the pseudo-Euclidean case. This aims to help get more directly close to the way this theory is used in theoretical physics.
It is particularly addressed to those who, instead of seeking to just handle relativistic properties by getting used to them in a computational way and then wait until they get really familiar, to finally grasp its meaning and go further, want to make the effort necessary to really understand them more quickly and deeply like theorician physicists do, according with the mathematical terms in which this theory really appears as soon as one goes a little further in mathematical physics.
Document to download: how to understand Special Relativity theory by geometrical intuition, in .pdf
http://spoirier.lautre.net/en/relativity.htm
Everything's relative
http://whyfiles.news.wisc.edu/052einstein/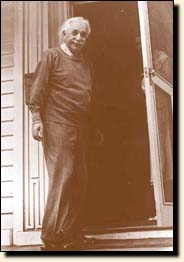 The World As I See It
Albert Einstein
"The most beautiful experience we can have is the mysterious. It is the fundamental emotion that stands at the cradle of true art and true science. Whoever does not know it and can no longer wonder, no longer marvel, is as good as dead, and his eyes are dimmed. It was the experience of mystery -- even if mixed with fear -- that engendered religion. A knowledge of the existence of something we cannot penetrate, our perceptions of the profoundest reason and the most radiant beauty, which only in their most primitive forms are accessible to our minds: it is this knowledge and this emotion that constitute true religiosity. In this sense, and only this sense, I am a deeply religious man... I am satisfied with the mystery of life's eternity and with a knowledge, a sense, of the marvelous structure of existence -- as well as the humble attempt to understand even a tiny portion of the Reason that manifests itself in nature."



http://www.aip.org/history/einstein/essay.htm
EINSTEIN'S LEGACY
Although he is regarded as one of the most brilliant mathematical physicists of the century, Einstein thought of himself as much as a philosopher as a scientist. Certainly his theories relating matter, energy, space, time and gravity have guided much of the work in theoretical physics since 1905. His famous "thought experiments," based on intuition and imagination rather than laboratory work, propelled us beyond the mechanistic, unchanging "clockwork universe" of Newton and the other classical physicists into a relativistic universe. Here clocks run slower or faster depending on the speed of travel or location in the universe, and "true" distances are stretched or shrunk by gravity.
http://www.ncsa.uiuc.edu/Cyberia/NumRel/EinsteinLegacy.html
SCIENCE HERO - Albert Einstein
"Peace cannot be achieved through violence, it can only be attained through understanding." Albert Einstein
Albert Einstein is a true science hero, not only because of his genius and physics theories, but also because of his philosophy and compassion for the universe and its creatures.
http://myhero.com/science/einstein.asp
Einstein's letter to Roosevelt, August 2, 1939
Gene Dannen - gene@dannen.com
In the summer of 1939, six months after the discovery of uranium fission, American newspapers and magazines openly discussed the prospect of atomic energy. However, most American physicists doubted that atomic energy or atomic bombs were realistic possibilities. No official U.S. atomic energy project existed.
Leo Szilard was profoundly disturbed by the lack of American action. If atomic bombs were possible, as he believed they were, Nazi Germany might gain an unbeatable lead in developing them. Unable to find official support, and unable to convince Enrico Fermi of the need to continue experiments, Szilard turned to his old friend Albert Einstein...
Einstein was willing to write to the President. As a life-long pacifist, he opposed the making of weapons, but he could not allow the Nazis sole possession of such destructive power.
http://www.dannen.com/ae-fdr.html
MotivationalQuotes.Com presents Albert Einstein
resources@motivationalquotes.com
Albert Einstein (3/14/1879-4/18/1955) was a Nobel Laureate in physics. Many people don't realize that as a young man, Einstein was an indifferent student. At the age of 12, he decided to solve the riddle of the world, but he dropped out of school at age 15. He resumed school later in life, finishing four years at the Polytecnic Academy in Zurich studying physics. After graduation, he taught math and worked as a patent examiner in Switzerland. In 1905, he published his doctoral thesis and was awarded his doctorate by the Polytecnic Academy. In that same year he published four other research papers that outlined his theories on relativity, equivalence of mass and energy (e=mc2), Brownian motion, and the photon theory of light. The theory of relativity was very controversial, and although it was proven in 1919, the Nobel committee did not mention it when bestowing the prize.
http://www.motivationalquotes.com/People/einstein.shtml
Max Planck Institute for Gravitational Physics (Albert Einstein Institute)
The Max Planck Institute for Gravitational Physics (Albert Einstein Institute) is one of more than 80 research institutes of the Max Planck Society. The Institute was established to pursue research in gravitational physics, especially general relativity and quantum gravity. General relativity is the theory of gravity devised by Albert Einstein; its many successful predictions concerning black holes, gravitational waves, gravitational lensing, and the Big Bang have made it a standard tool of astronomers in their attempts to describe the observed universe. Much work in theoretical physics today is directed at generalizing this theory to include the quantum effects that are known to be necessary to describe elementary particles, and which are believed to be necessary as well to describe the inside of a black hole and the details of the Big Bang. The aim is to develop a quantum theory of gravity that goes beyond general relativity and explains the relationship between gravity and the other forces of physics, such as electromagnetism and the nuclear force.
http://www.aei-potsdam.mpg.de/
Einstein Papers Project
The Einstein Papers Project (EPP) publishes in large book format The Collected Papers of Albert Einstein, an edition of twenty-five planned volumes of Albert Einstein's scientific, professional and personal papers, manuscripts and correspondence. Eight volumes have been published so far by Princeton University Press; two more are in preparation, to be published within the next three years. Most of the original documents in the Einstein collection are located at The Albert Einstein Archives at the Jewish National and University Library at the Hebrew University in Jerusalem.
http://www.einstein.caltech.edu/
Albert Einstein Archives
Albert Einstein (1879-1955) bequeathed his literary estate and personal papers to the Hebrew University of Jerusalem. These papers constitute the Albert Einstein Archives, housed at the Jewish National & University Library since 1982. The Albert Einstein Archives includes the largest collection of original Einstein manuscripts in the world as well as his vast correspondence with the most influential physicists and intellectuals of the twentieth century. In addition to being the proud custodian of his papers, the Hebrew University owns the copyright to all of Einstein's writings.
http://sites.huji.ac.il/jnul/einstein/ http://www.albert-einstein.org/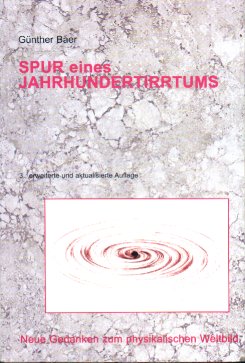 SPUR eines JAHRHUNDERTIRRTUMS
Günther Baer - spurfreunde@miriup.de
Albert Einstein gilt als der Vater unseres modernen physikalischen Weltbildes. Jedes Kind kennt heutzutage seinen Namen, mit seinen Theorien regte er die Phantasie der Menschen an, wie kaum ein anderer Physiker unseres Jahrhunderts. Zeitreisen, schwarze Löscher, Gravitationslinsen - jeder physikalisch Interessierte kennt sie, die "relativistischen" Phänomene. Und nun liest man in der Presse: Einsteins Relativitätstheorie ist falsch.
Auch das hier veröffentlichte Buch widmet sich diesem Thema und ist Ergebnis von Untersuchungen, die der Autor vor über 20 Jahren begonnen hat. Seine Hypothese stellt die Relativitätstheorie in Frage und entwickelt das Weltbild weiter, das vor 1905 allgemein anerkannt war.
Die wohl bedeutsamste Kernfrage des Buches ist, wie lange wir es uns noch leisten wollen und können, das Vakuum als stofflich leeren Raum aufzufassen. Ein berühmtes Experiment, das als Fundamentalversuch der Relativitätstheorie gilt und dessen Wiederholung unter neuen Bedingungen in (5.6) vorgeschlagen ist, wird darüber letztendlich entscheiden. Viele Wissenschaftler beugen sich zweifelnd aber gefügig den zauberhaften Auffassungen der modernen Physik, und viele Autoren wetteifern phantasievoll und überschwenglich um die medienwirksamste Darstellung von "Kaisers neuen Kleidern".
http://www.miriup.de/spur/
Relativitaetstheorie und Mystik
Robert Markweger - rmw@aon.at
Wenn man sich voellig unvoreingenommen mit Relativitaetstheorie beschaeftigt so kann man schon den Eindruck gewinnen es in manchen Bereichen der RT mit glatter Mystik zu tun zu haben.
Im Prinzip beruht die SRT darauf dass man die Fortbewegung des Lichts also insbesondere das Ergebnis des Michelsonversuchs unbedingt mit einer Welle im Aether beschreiben wollte. Insofern ist die SRT eine Folge der Wellentheorie des Lichts.
Tatsache ist dass insbesondere der Michelsonversuch mit einem Teilchenverhalten ohne weiteres erklaerbar ist, was im Allgemeinen freilich grosszuegig uebergangen wird.
Nun, ich meine dass das Licht in aller Konsequenz aus einzelnen oszillierenden Teilchen besteht, ich sehe nicht welche Eigenschaften des Lichts damit nicht beschreibbar sein sollten.
Die Vorstellung von schwarzen Loechern oder von einem Urknall haben ihre Ursache in nichts anderem als dem beliebigen Fortschreiben mathematischer Funktionen, diese Vorstellungen sind nur noch schlichtester Mystik vergleichbar.
Für die Menschenrechte der Relativitätskritiker
Jonathan Tennenbaum
Von Anfang an war Einsteins spezielle Relativitätstheorie heftig umstritten. Unter den Wissenschaftlern, die grundsätzlichen Zweifel an ihr äußerten, gehörten u.a. solche bekannten Namen wie A.A. Michelson, Walther Ritz, Frederick Soddy, Joseph Larmor, Sir Oliver Lodge, P.W. Bridgeman und viele andere, deren Widerstand gegen Einsteins Theorie sicherlich nicht - wie im Falle von Johannes Stark und Phillip Lenard - auf politische Motive und Vorurteile zurückzuführen war. Der berühmte Physiker A.A. Michelson, der bis zu seinem Tod ein entschiedener Gegner der Relativitätstheorie war, sagte einmal zu Einstein, er bedauere es, daß sein berühmtes Interferenzexperiment diesem Monster den Weg bereitet habe!
Daß die wirkliche Sachlage nicht ganz so eindeutig ist, wird in dem 1997 erschienenen Buch Requiem für die spezielle Relativität auf eindrucksvolle Weise dokumentiert. Die Autoren - der in Israel ausgebildete Physiker Georg Galeczki und der deutsche Physiker Peter Marquart - haben eine ungewöhnlich vielseitige und umfassende Kritik der theoretischen und experimentellen Grundlage der SRT geliefert, die interessante und teilweise überraschende neue Gesichtspunkte enthält. Das Buch bleibt keineswegs auf die negative Seite begrenzt, sondern weist auf mehrere interessante Problemstellungen hin, die experimentell weiterverfolgt werden müßten.
http://www.solidaritaet.com/fusion/1998/2/relativ.htm
"Der Verriß" oder "Irrte Einstein"
Georg Galeczki und Peter Marquardt
Kaum ein Thema wird derzeit in den Wissenschaftsmagazinen heftiger debattiert als die Relativitätstheorie. Als FUSION den Autoren des Buches "Requiem für die Spezielle Relativität" Georg Galeczki und Peter Marquardt Gelegenheit gab, ihre Ansicht selbst darzustellen (FUSION 3/1997), ahnten wir nicht, welche Kontroverse sich darum entzünden würde. Deswegen wollen wir etwas ausführlicher schildern, wie sich die Debatte entwickelt hat
http://www.solidaritaet.com/fusion/1998/2/einstei1.htm