Enrico Fermi
Biographies - Enrico Fermi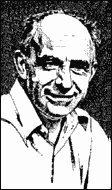 Enrico Fermi, born in Rome, Italy on September 29, 1901. Before emmigrating from Fascist Italy, Fermi developed the theory of beta decay and did experiments where he bombarded elements with neutrons which produced artificial radiation. He was awarded for his latter work with a nobel prize in 1938. After fleeing Italy with his wife (who was Jewish) to the United States, he became a physics professor at Columbia University. This was where he created the first sustained nuclear fission chain reaction. He also worked on the atomic bomb (the Manhatten Project) but later opposed it due to ethical reasons. He died of stomach cancer on November 28, 1954 in Chicago.
http://grotto.virtualave.net/bios/fermi.html
Enrico Fermi
While studying the creation of artificially radioactive isotopes in the 1930s, Enrico Fermi became the first physicist to split the atom. His later research pioneered nuclear power generation.
http://www.invent.org/book/book-text/42.html
Enrico Fermi
Enrico Fermi was born in Rome on September 29, 1901. He is best known for his contributions to nuclear physics and the development quantum theory. In 1934, while professor of physics at the University of Rome, Fermi began experiments where he bombarded a variety of elements with neutrons. He discovered that slow moving neutrons were especially effective in producing radioactive atoms. Not realizing he had split the atom, Fermi announced what he thought were elements beyond uranium. He won the 1938 Nobel Prize for physics for his work on nuclear processes. Also in 1938 two German physicists, Lise Meitner and Otto Frisch performed a similar experiment where they split a uranium atom. They named the process of splitting atoms "nuclear fission."
http://www2.lucidcafe.com/lucidcafe/library/95sep/fermi.html
Enrico Fermi
(b. Sept. 29, 1901, Rome--d. Nov. 28, 1954, Chicago), Italian-born U.S. physicist who was one of the chief architects of the nuclear age. He developed the mathematical statistics required to clarify a large class of subatomic phenomena, discovered neutron-induced radioactivity, and directed the first controlled nuclear chain reaction. He was awarded the 1938 Nobel Prize for Physics, and the Enrico Fermi Award of the U.S. Department of Energy is given in his honour. (see also Index: subatomic particle, nuclear reaction)
http://pc9805.dmacc.cc.ia.us/humn133/subjects/science/Fermi.html
Enrico Fermi Winner of the 1938 Nobel Prize in Physics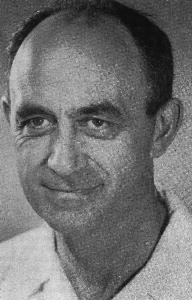 1938 Nobel Laureate in Physics for his demonstrations of the existence of new radioactive elements produced by neutron irradiation, and for his related discovery of nuclear reactions brought about by slow neutrons.
http://www.nobelprizes.com/nobel/physics/1938a.html
Enrico Fermi
Enrico Fermi's first significant accomplishment in nuclear physics was providing a mathematical means for describing the behavior of certain types of subatomic particles, a process concurrently developed by Paul Dirac and which came to be known as Fermi-Dirac statistical mechanics. His next major accomplishment was to successfully explain beta decay by incorporating into the process the production of a new particle which he named the neutrino. Despite the significance of his contributions to theoretical physics, Fermi is best known for his experimental work. For his discovery of new radioactive elements and his work with slow neutrons, Fermi was awarded the 1938 Nobel Prize in physics. However, unknown to Fermi and the Nobel Prize Committee, the "new elements" Fermi characterized (with one exception) weren't new at all, they were fission products, i.e., radioisotopes of known elements produced by splitting uranium.
http://www.orcbs.msu.edu/radiation/radhistory/enricofermi.html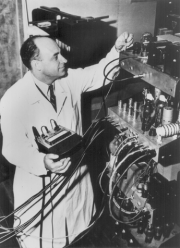 ESVA: Fermi Mini-Exhibit
"Whatever nature has in store for mankind, unpleasant as it may be, men must accept, for ignorance is never better than knowledge." -- Enrico Fermi
http://www.aip.org/history/esva/exhibits/fermi.htm
Enrico Fermi
Enrico Fermi produced the world's first controlled chain reaction at the University of Chicago's Metallurgical Laboratory on December 2, 1942. This event, often considered to be the beginning of the nuclear age, led to the work done at Los Alamos during World War II. Fermi joined the wartime staff at Los Alamos, where he later helped build the first nuclear reactor, known as "Water Boiler."
http://physics.hallym.ac.kr/reference/physicist/Fermi.html
A Science Odyssey: People and Discoveries: Fermi creates controlled nuclear reaction
Fermi, among others, realized that nuclear fission was accompanied by the release of colossal amounts of energy from the conversion of mass into energy (according to Einstein's mass-energy equation E=mc2). When scientists convinced President Roosevelt of this, Fermi was appointed to head a research team as part of a secret project to develop an atomic bomb. Fermi's task, however, was to create a controlled nuclear reaction; that is, to split the atom without creating a deadly explosion.
http://www.pbs.org/wgbh/aso/databank/entries/dp42fe.html
Alligators nuclear Weapons Page
zvi@zvis.com
The most destructive weapon ever created by mankind, on the other hand, they kept peace during last 50 years and of course such a weapon couldn't be created without the most brilliant scientists. Einstein, Bohr, Sczillard, Fermi, Feynman, Oppenheimer, Carter - those are the ones who created that weapon. As Enrico Fermi said once - "First of all this is a very interesting physics", yeah, it is, but it is also pretty much deadly thing.
http://www.zvis.com/gatornuk.shtml
Fermi Biography Page
webmaster@fnal.gov
Enrico Fermi was born in Rome, Italy, on September 29, 1901. He died November 28, 1954.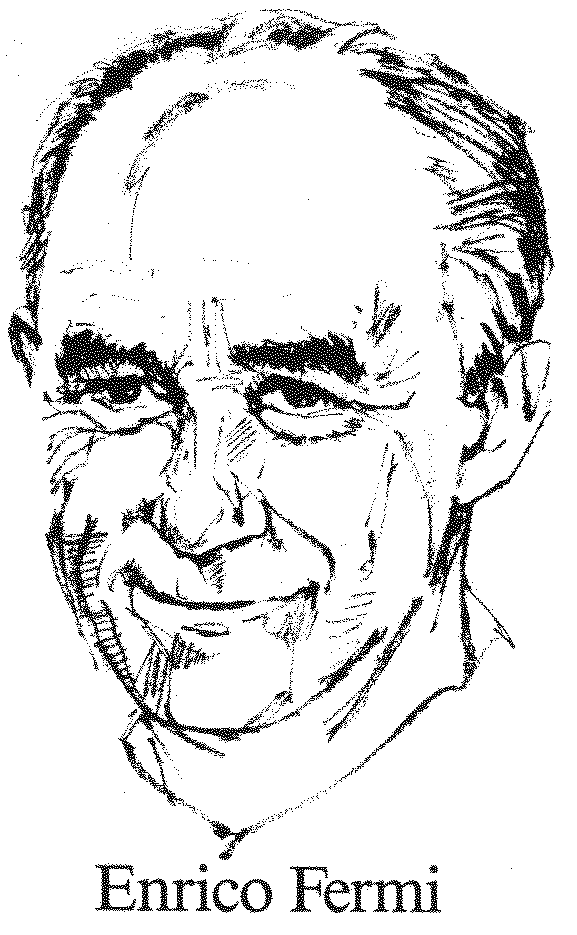 Fermi's accomplishments were in both theoretical and experimental physics, a unique feat in an age in which scientific endeavors have tended to specialize on one aspect or the other. In 1933, he developed the theory of beta decay, postulating that the newly-discovered neutron decaying to a proton emits an electron and a particle which he called a "neutrino". The theory developed to explain this interaction later resulted in recognition of the weak interaction force. Investigation into the weak force has been one of the major areas of study at Fermilab.
Fermi received the Nobel Prize in 1938 for "his discovery of new radioactive elements produced by neutron irradiation, and for the discovery of nuclear reactions brought about by slow neutrons." At that time it was recognized that nuclear fission (the splitting of the atom) had taken place in Fermi's and other similiar experiments. Scientists felt that this principle might be applied to construct an "atomic bomb". Fermi moved to the University of Chicago to be in charge of the first major step in making feasible the building of a bomb. In the squash courts under the west stand of the University's Stagg Field, Fermi supervised the design and assembly of an "atomic pile", a code word for an assembly that in peacetime would be known as a "nuclear reactor".
At the end of World war II, the University of Chicago formed its Institute for Nuclear Studies (now named The Enrico Fermi Institute), to keep together the gifted scientists who had worked on the development of the atom bomb. To Fermi high energy physics was the most exciting area of physics. He accurately predicted that giant accelerators (such as Fermilab's) would be built in the future. In lighter moments, he even dreamed of an accelerator that would be built at the equator and encircle the globe!
http://www.fnal.gov/pub/fermi_biography.html
Fermi Takes Charge
In New York City in 1940, Enrico Fermi continued to conduct nuclear fission experiments at

Columbia University. Fermi's team, including Leo Szilard and Walter Zinn, confirmed that absorption of a neutron by a uranium nucleus can cause the nucleus to split into two nearly equal parts, releasing several neutrons and enormous amounts of energy. The potential for a self-sustaining nuclear chain reaction had become a strong possibility.
Enrico Fermi, the last universal scientist. Arthur Compton recalled his visit to Columbia to invite Fermi to join the Met Lab project: Fermi stepped to the blackboard and worked out "simply and directly the equation from which could be calculated the critical size of a chain-reaction sphere."
http://www.anl.gov/OPA/frontiers96/unisci.html
Fermi, Enrico (1901-1954)
Italian physicist who created the first controlled Chain Reaction in 1943 and founded Argonne National Laboratory.
http://www.treasure-troves.com/bios/Fermi.html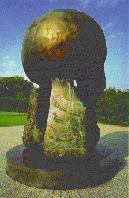 Manhattan Project - Enrico Fermi - Henry Moore Sculpture
"On December 2, 1942, man achieved here the first self-sustaining chain reaction and thereby initiated the controlled release of nuclear energy." Chicago Pile No. 1 (CP-1) was constructed in a makeshift laboratory under the grandstands of Stagg Field Stadium at The University of Chicago. In 1965, the site was designated a registered national historic landmark. The sculpture was dedicated in 1967 on "the 25th anniversary of the first controlled generation of nuclear power, an experiment by Enrico Fermi and his colleagues."
http://physics.uchicago.edu/moore_statue.html
SJSU Virtual Museum
Enrico Fermi was born in Rome, Italy on September 29, 1901. Enrico Fermi was awarded the Nobel Prize in physics in 1938 for his work in bombarding elements with neutrons to produce artificial radioactivity. Fermi died of cancer in 1954 in Chicago, Illinois.
http://www.sjsu.edu/depts/Museum/fer.html