Allgemein
This Dynamic Earth - the Story of Plate Tectonics
Jacquelyne Kious, Robert I. Tilling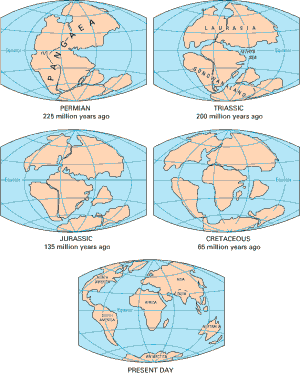 In the early 1960s, the emergence of the theory of plate tectonics started a revolution in the earth sciences. Since then, scientists have verified and refined this theory, and now have a much better understanding of how our planet has been shaped by plate-tectonic processes. We now know that, directly or indirectly, plate tectonics influences nearly all geologic processes, past and present. Indeed, the notion that the entire Earth's surface is continually shifting has profoundly changed the way we view our world.
http://pubs.usgs.gov/publications/text/dynamic.html
Plattentektonik
Jürgen Becker - becker@nefkom.net
Von Pangäa bis zum heutigen Erdantlitz: Mit den beiden Knöpfen Vorwärts und Rückwärts kannst du zwischen 6 verschiedenen Bildern hin- und herschalten. Dieses Beispiel funktioniert nur mit JavaScript 1.1 (z.B. Netscape Navigator 3.0).
http://emmy.nettec.de/mek/ek5/platten/platten.htm
Tectonics and Geological Timescales
Linksammlung.
http://userpage.fu-berlin.de/~rpatzig/seismik/tekton.html
ODSN Plate Tectonic Reconstruction Service
This is the platetectonic reconstruction service. In this section you can calculate platetectonic reconstructions of any age back to 150 My. Please read the reference information for more info on how these maps are calculated and what data is used. There's also a reference you might want to cite if you use one of these maps for a publication. An animation (330 kb) using 5 my timesteps is available too (this is a new one, the old on is still here). Be aware it might take a while to download. The rotating earth above shows a 65 My reconstruction in an orthographic projection.
For more information about how to use this mapping system, consult the manual page or the links in the form. For other www-sites with plate tectonic information, look here. If numerical ages don't mean anything to you, visit the timescale at the UCMP in Berkley.You can get interesting information on any geologic era there.
http://www.odsn.de/odsn/services/paleomap/paleomap.html
Paleomap Project
Christopher R. Scotese - info@scotese.com
The goal of the PALEOMAP Project is to illustrate the plate tectonic development of the ocean basins and continents, as well as the changing distribution of land and sea during the past 1100 million years.
In the Earth History section of this website are full-color paleogeographic maps showing the ancient mountain ranges and shorelines, active plate boundaries, and the extent of paleoclimatic belts.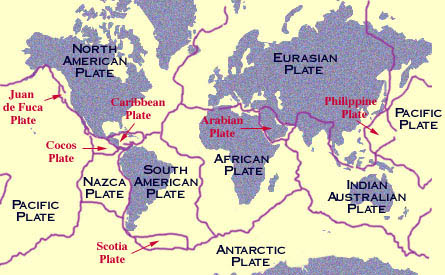 Plate Tectonics
Earth's continental landmasses, upon which we live, may be thought of as ships drifting upon a sea, propelled wherever the currents take them. This slow voyage of the continents has reshaped the face of the Earth throughout its history.
Scientists have investigated the theory of plate tectonics (which states that the Earth's crust is made of several plates, each moving independently of the others) for many years. Studies by NASA and radio astronomy sites around the world support this theory.
http://observe.ivv.nasa.gov/nasa/earth/tectonics/Tectonics1.html
Continental Drift
Animation zur Kontinentalverschiebung. Mit einem Überblick über die einzelnen Epochen der Erdgeschichte.